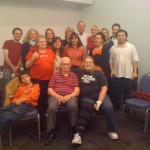 Yesterday Happiness 101 lost one of its founding members, Lloyd Cottrell. He has been a wonderful, inspiring member. He always had a story to tell and and twinkle in those big blue eyes. We are better for knowing him. He, his wife, Nadine and daughter Holliann helped to formulate the nucleus of Happiness 101. He was with us during the Happiness Social only one week ago. In fact, this is the last picture taken of Lloyd. I can tell you that I have personally been touched by this man and am a better, happier human being for the experience.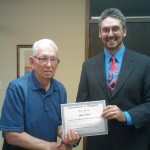 In this moment, I allow myself to feel sadness at Lloyd's passing, knowing that by allowing this feeling to run its natural course, I will return more swiftly back to Happiness and enjoy all of the good, happy memories of Lloyd.
Rest in peace, my friend.
~Frank