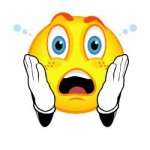 One of my favorite musicians is Fiona Apple. On her release (When The Pawn…) she had a song called "Mistake". A little bite of the Apple goes "I've acquired quite a taste for a well-made mistake". At the time, the concept of enjoying or appreciating a mistake was foreign to me. We get so hung up on making a "mistake", when there may be many benefits to blowing it. I got all the way to my office today before realizing I left my computer's power cord at home. My computer flat lines inside of three minutes without some direct current, so I decided to return home to retrieve it. Before I could start to grouse, I decided to challenge myself to find all of the positives in the unscheduled round-trip.
1) 'Got to drive on a beautiful day rather than doing paper work at my office.
2) I got to speak to a friend on the drive and arranged to have lunch. (Yes, I used my ear bud – safety first)
3) I appreciated that I even own a computer to forget the cord to.
4) I was sincerely thankful for leaving early for my office on the first trip, which afforded me the luxury of time to return home to retrieve the cord at all
5) I am thankful to have a car – imagine what a nightmare it would have been if I had to take the bus?
6) It afforded me the opportunity to mail a bill right away
Think of some mistakes you have made. 'Maybe even mistakes that have regret attached to them. What were the positives that came from your "mistake"? Was it even a mistake? Are you sure? We can be quick to identify something as "bad" or a "mistake" but sometimes, with the passage of a little time and/or perspective, we might see it differently. This short story illustrates the point well:
"We'll See" (story obtained from Thoughts2Think):
There is a Taoist story of an old farmer who had worked his crops for many years. One day his horse ran away. Upon hearing the news, his neighbors came to visit.
"Such bad luck," they said sympathetically.
"We'll see," the farmer replied.
The next morning the horse returned, bringing with it three other wild horses.
"How wonderful," the neighbors exclaimed.
"We'll see," replied the old man.
The following day, his son tried to ride one of the untamed horses, was thrown, and broke his leg. The neighbors again came to offer their sympathy on his misfortune.
"We'll see," answered the farmer.
The day after, military officials came to the village to draft young men into the army. Seeing that the son's leg was broken, they passed him by. The neighbors congratulated the farmer on how well things had turned out.
"We'll see" said the farmer.
I leave you with list of items that were invited by "mistake" (courtesy of Think Quest)
Chocolate Chip Cookies
Velcro
Ice-cream cones
Silly-putty
Frisbee
Potato Chips
Slinky
Post-It Notes
Frank Clayton
Licesned Profeesional Counselor