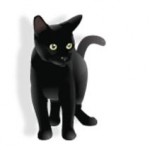 Watching an in-door cat explore the outside world is always an adventure. Every time I let me cat out into the yard, I am amazed at how unnatural this natural being finds nature. He tentatively steps upon soft spongy stuff called grass and tigers his way through the jungle of bushes lining the perimeter of the yard. Were this a different world, these things would all seem day-to-day to him and being inside a big thing called a "house" would seem unnatural. As he sniffs and explores, I see the yard with new eyes. Appreciating the adventurer in him, rekindles it in me.
~Frank Clayton, Licensed Professional Counselor
Why am I posting postives every day? In (the free class) Happiness 101 I teach about how to be lastingly happier. Writing positives each day is one of the techniques. Click here to find out more.