To view part 1 of this segment, click here.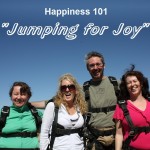 It was a fast turn around. Our group (Teresa, Julie and Kathy (as observer) were standing right by the runway. Allen and his group were still landing as Cheyenne got off the plane. Immediately we climbed in. Spirits were (pardon the pun) high on the way up. We laughed and joked. Teresa looked out the window a lot. I later found out why: she had NEVER been up in a plane before at all. Wow! Kathy was unable to jump because of an ankle injury, so she opted to ride up with us – and smiled broadly the whole time. Julie said she was excited and smiled a lot, quick to give a thumbs up. I was the first one out the door.
Luckily I remembered to bring my tandem master (Brian) and videographer (Mike). The fall itself is violently loud. I had to breathe through my teeth – otherwise I would get more air than I could handle. I was, after all, falling at a rate of about 130 miles per hour. Time falling is about 60 seconds, which seems like a long time when you start out at 13,000 feet. The drift down is by far my favorite part. Everything is beautiful from that perspective. Brian took me into a couple of hard spins – to the point that my feet swung out almost horizontally (or so it seemed). My wife later said she could hear me Whoo Hooing from the ground. The landing was smoother than jump #2 (I jumped about six weeks ago) and got to watch Teresa and Julie drift in right after me.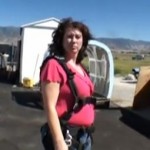 Teresa was ALL smiles and when I asked her if she would do it again, she said "Heck yeah!". Julie's landing was graceful and she was just beaming. She said it was a lot of fun and that she was glad she celebrated her birthday with us. Julie's grandson, Donovan went up with the third plane as an observer and gave it a thumbs up when he returned.
We gathered together all the jumpers and raised our glasses in a toast to Happiness 101. Immediately afterward I gave all jumpers a signed certificate acknowledging that they had "Jumped for Joy" with Happiness 101.
Everyone was very helpful with the clean-up afterwards, which I really appreciated. I also made a deal with SkyDive Utah to get a copy of everyone's video, so I will be sharing them with you as I get permission.
I want to thank my wife, Debbi, for all of her hard work to make this special day a success. She donated her Saturday to the cause – that's huge! She packed the car, which was no small feat: a big table, a card table, 16 folding chair, a cooler, a water dispenser, a huge happy face ball and a variety of party favors. She helped set up and tear down. Debbi comforted, cheered, encouraged and celebrated with us. She also played the role of garbage collector and videographer. Thanks, Debbi! I owe you big time.
Next year I am hoping to jump again, except I would like to do it for a cause. Next week is the Walk for NAMI (The National Alliance for Mental Illness). So in 2011 I hope we can do a JUMP for NAMI. Stay tuned.
~Frank Clayton, Licensed Professional Counselor
To view part 1 of this segment, click here.